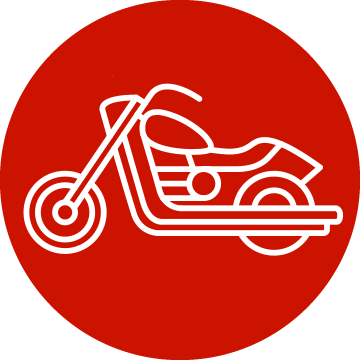 Tour by Harley
From Kyoto! Go Harley! ! A Journey to Feel the Sea of ​​Japan Uzushio Cruise – Shikoku Karst – Itsukushima Shrine – Izumo Taisha – Amanohashidate
[ Kyoto Certified Interpreter Guide is included ]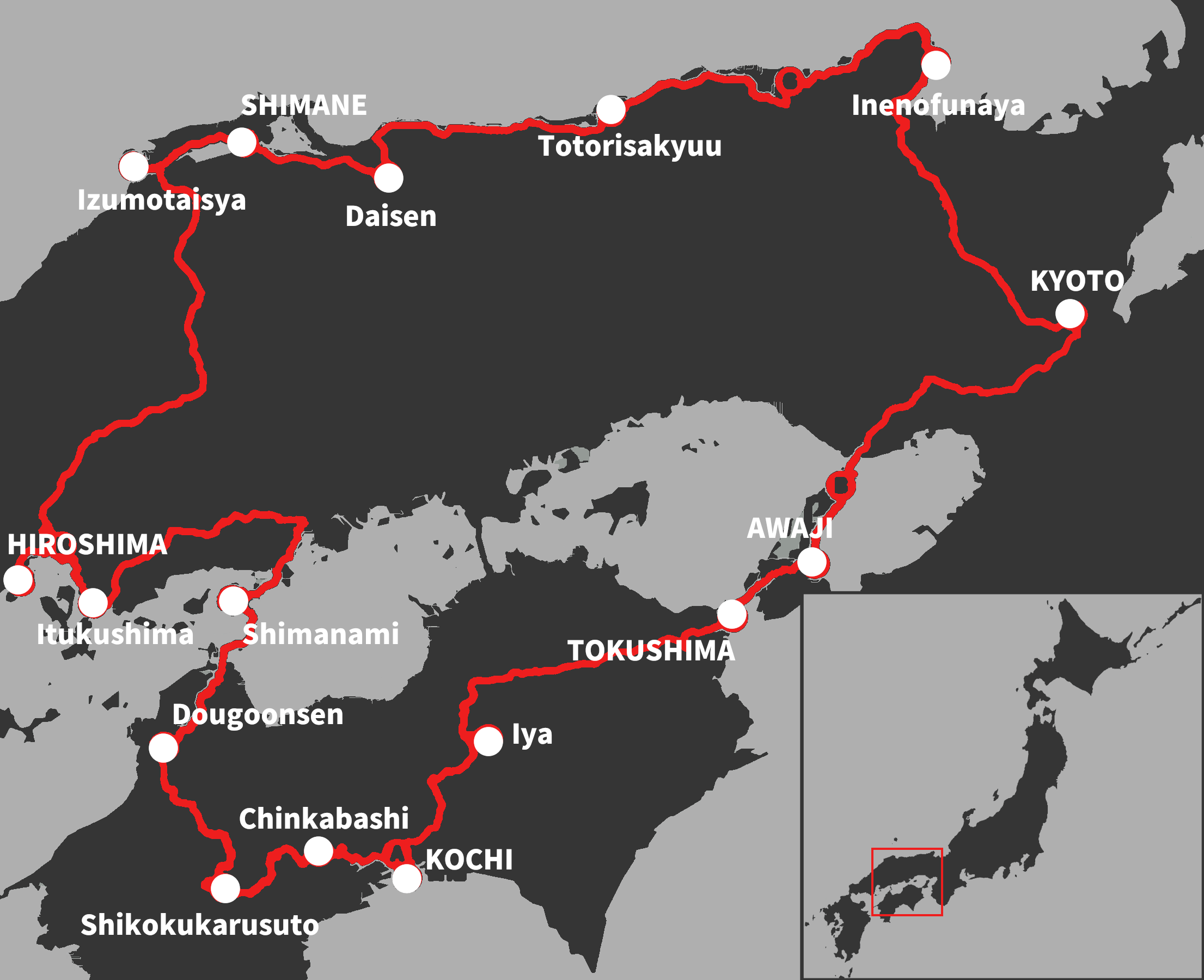 A trip around two of Japan's three oldest scenic spots. In addition, it is a tour of Shikoku Karst, Itsukushima Shrine, Izumo Taisha, Uzushio Cruise and superb view. Soothe away the fatigue from the day's travels at hot springs in various locations, such as Dogo Onsen and Kinosaki Onsen. There are many mountain roads and sea road winding courses. Here is a trip that can only be experienced on a motorcycle!
| | |
| --- | --- |
| 2023.9.10(Sun)~2023.9.16(Sat) | Application deadline: 2023.8.10 |
| 2023.10.22(Sun)~2023.10.28(Sat) | Application deadline: 2023.9.22 |
| 2023.12.3(Sun)~2023.12.9(Sat) | Application deadline: 2023.11.3 |
Tour duration : Available anytime
(Apply a week before the day of tour)
The minimum number of participants:4guest<s>
for 1 person
¥740,000~
with support van
¥835,000~
| Motorcycle   | Option(Reservation required) /DAY   |
| --- | --- |
| P-4 -70,000yen   | Helmet(Day 2/and then daily) 1,100yen(+220yen) |
| P-5 -57,000円   | Gloves(Day 2/and then daily) 330yen(+110yen) |
| P-6 -42,000円   | Please contact us if you would like a tandem |
| P-7 +0円   | pre/after-tour stay arrangement from+10,000yen(Single room from +35,000yen) |
| | pannier case from+4,000yen |
maximum capacity 6 (If you are applying as a group, please contact us)
Minimum number of participants: 4
※Including tax
※Tour fee is altered by the number of participants. Please inquire.
Tour Schedule
Model Course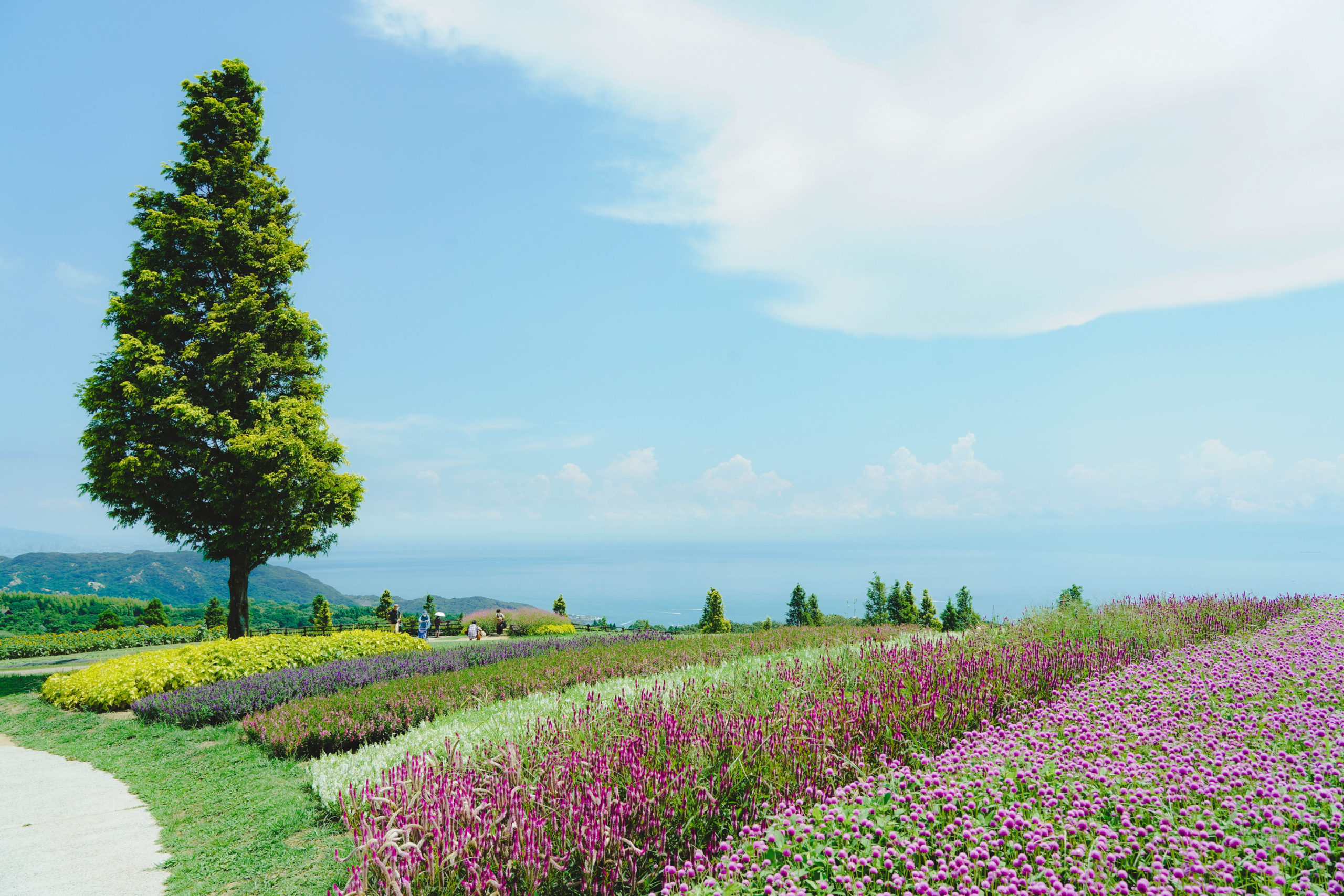 Day1
First of all, we will have a briefing at the store to explain the signs, etc., and then aim for Awaji Island. After enjoying the seasonal flower fields at Hyogo Prefectural Park Awaji Hanasajiki, after having lunch, board a whirlpool viewing boat to see the world's largest whirlpool. You will be overwhelmed by the whirlpools you see up close.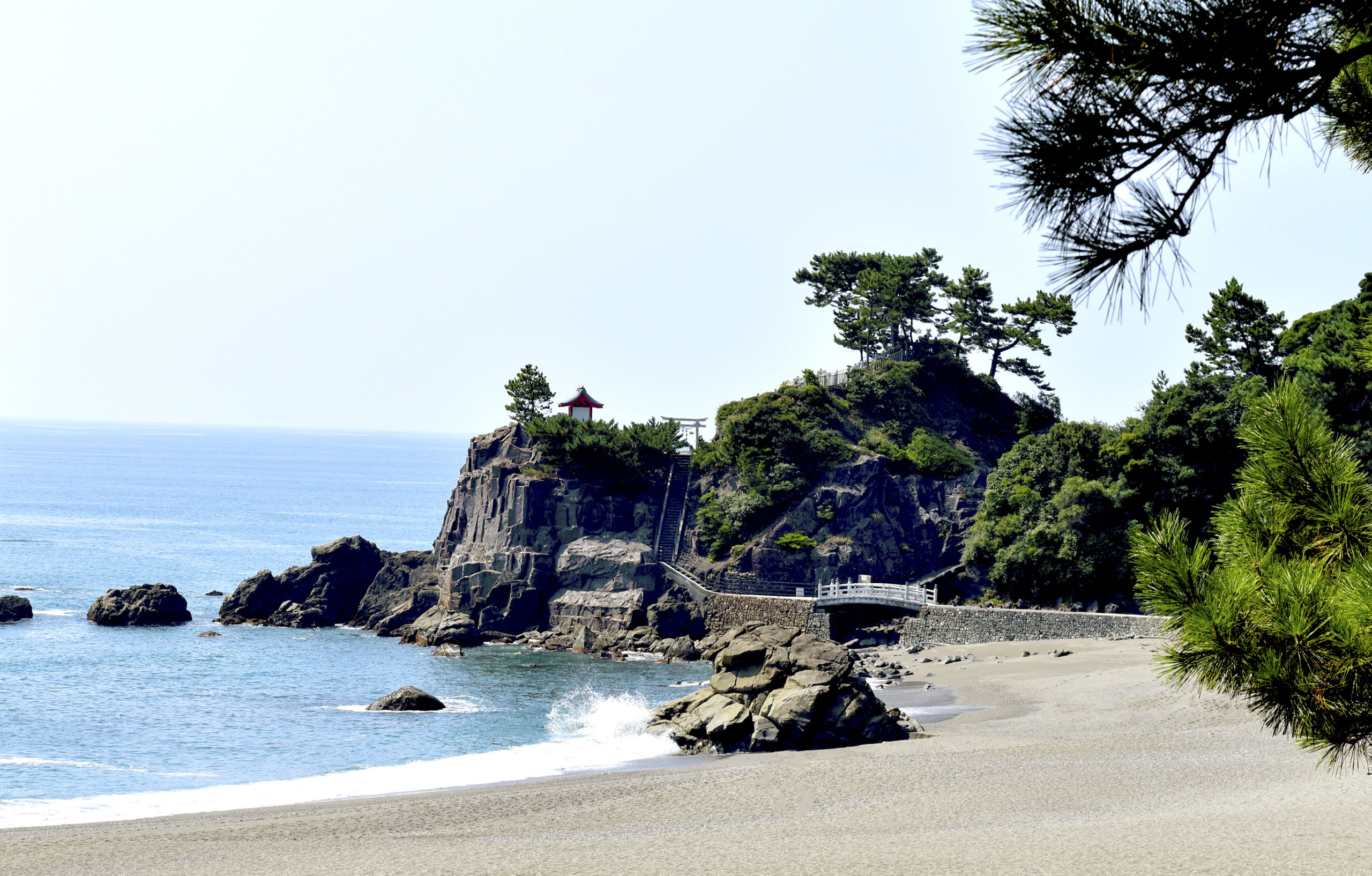 Day2
On the second day, we will travel from Tokushima to Kochi. Once every three years, the Kazura Bridge over Iya, a tourist destination with unspoiled nature that is said to be one of Japan's three most unspoilt places, is rebuilt. Please enjoy Katsurahama, which is said to be the most loved place in Tosa, the hometown of Ryoma Sakamoto, a patriot who was active at the end of the Edo period.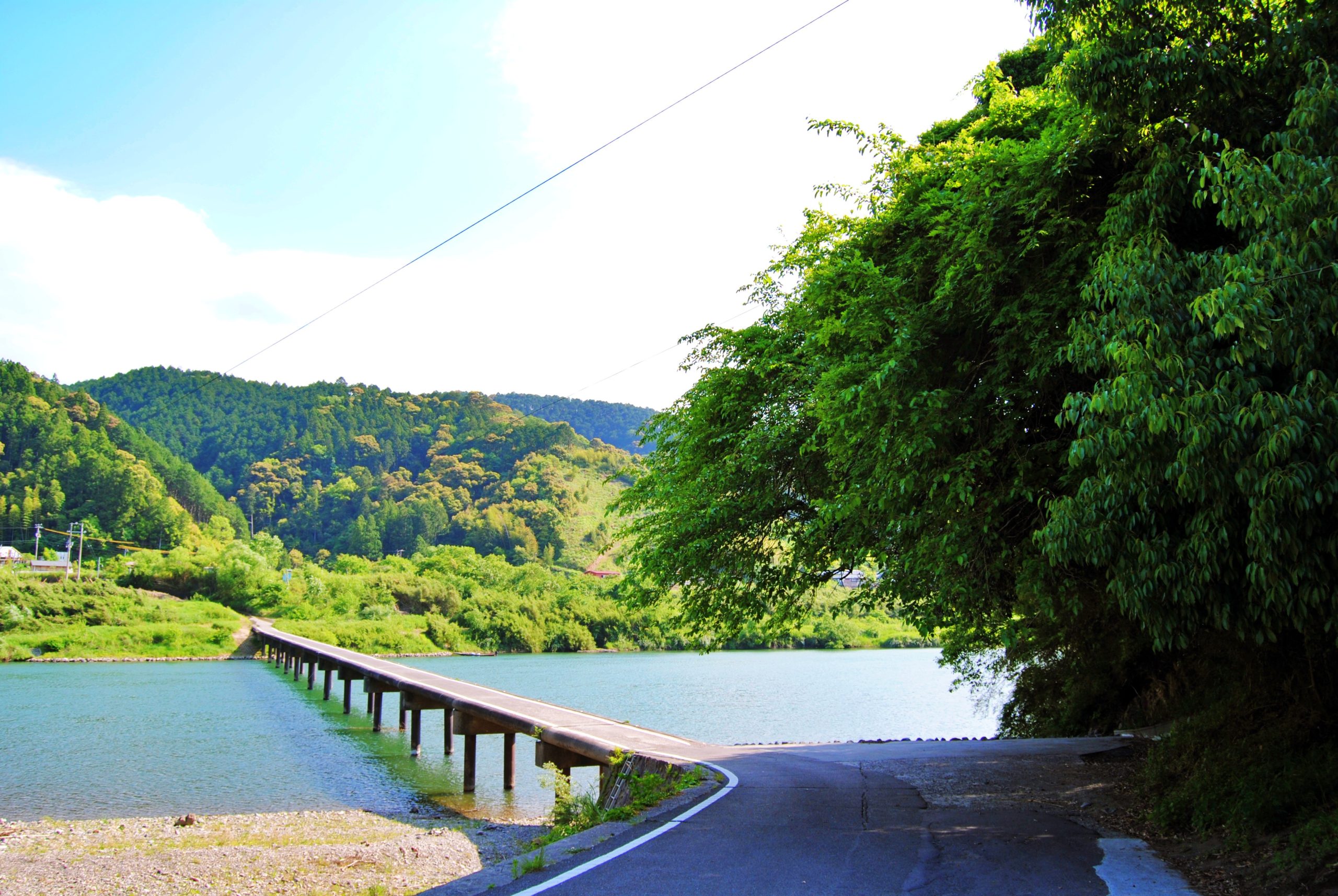 Day3
Head to Shikoku Karst, a premier winding course, through a submersible bridge with no balustrade designed to sink into the river when the water rises. After passing through the Shikoku karst, we arrived at Dogo Onsen, our inn for the day. Please heal the tiredness of the day in the hot springs!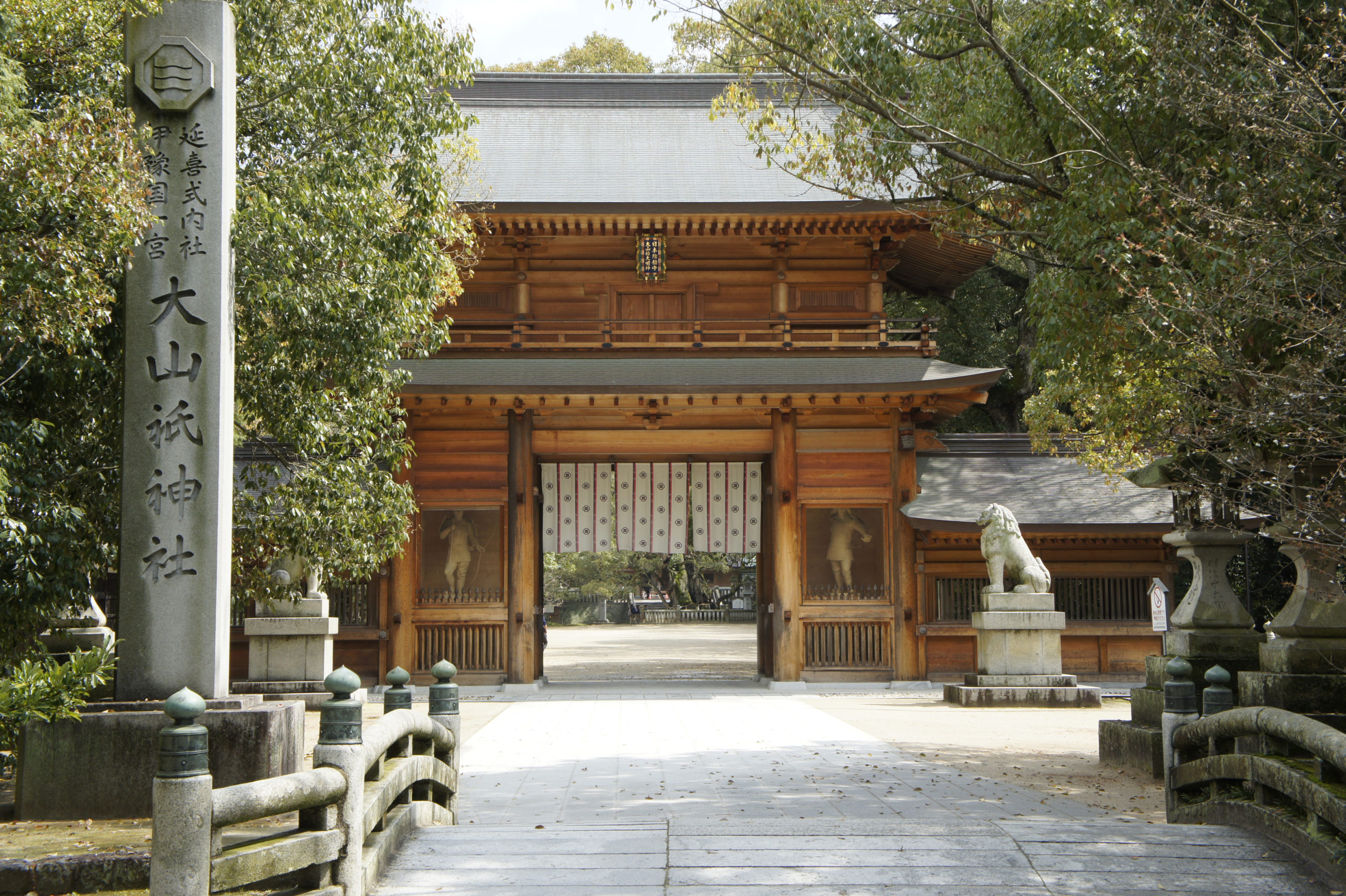 Day4
After visiting Oyamazumi Shrine on one of the six islands in the Seto Inland Sea and visiting the Yamato Museum in Hiroshima, take a boat to Itsukushima.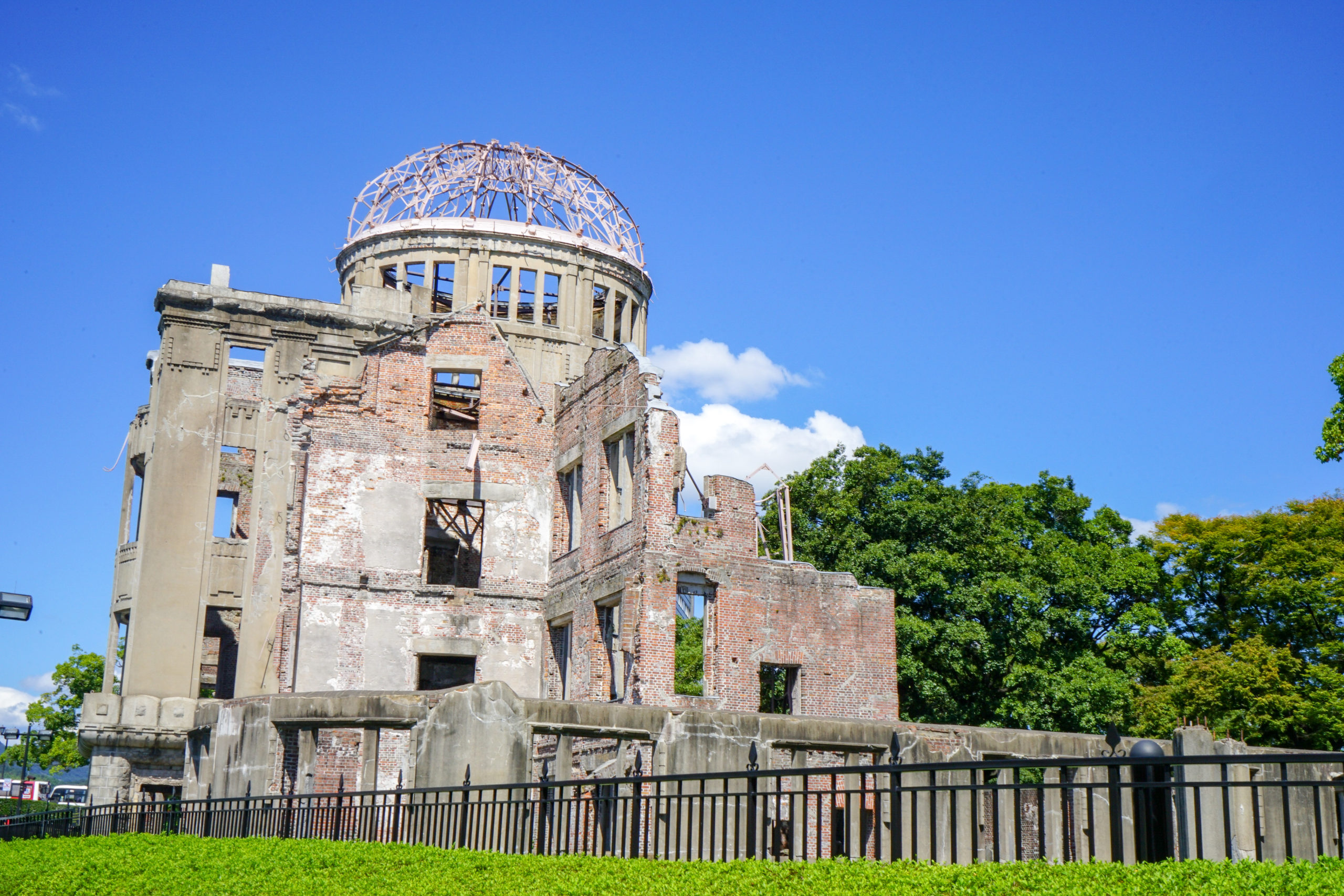 Day5
Enjoy the Itsukushima Shrine in the morning, and then head to Hiroshima's Atomic Bomb Dome. Enjoy Hiroshima's famous okonomiyaki for lunch. After visiting Izumo Taisha, please relax in Shimane prefecture.
Day6
Visit Shimane, Tottori, and Hyogo. Daisen Makiba Milk no Sato's soft-serve ice cream is exquisite. After seeing the sand dunes in Tottori, eat Tajima beef and relax at Kinosaki Onsen.
Day7
The Japanese-style Venetian "Funaya of Ine" is a secret place hidden in Kyoto. In addition, it is the last day of Amanohashidate and the superb view.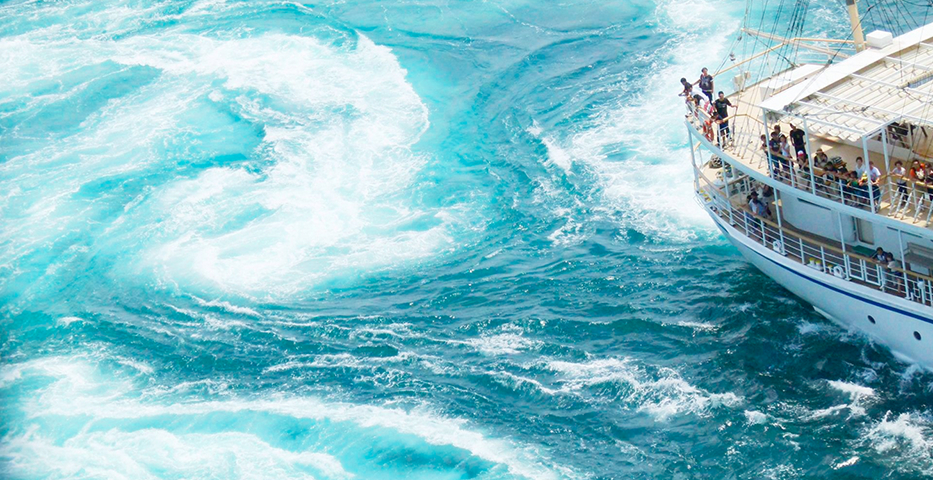 Uzushio Cruise is a unique experience attraction where you can enjoy powerful whirlpools from a cruise ship in the Naruto Strait between Minamiawaji City, Hyogo Prefecture and Naruto City, Tokushima Prefecture. Let's see Japan's best Uzushio up close!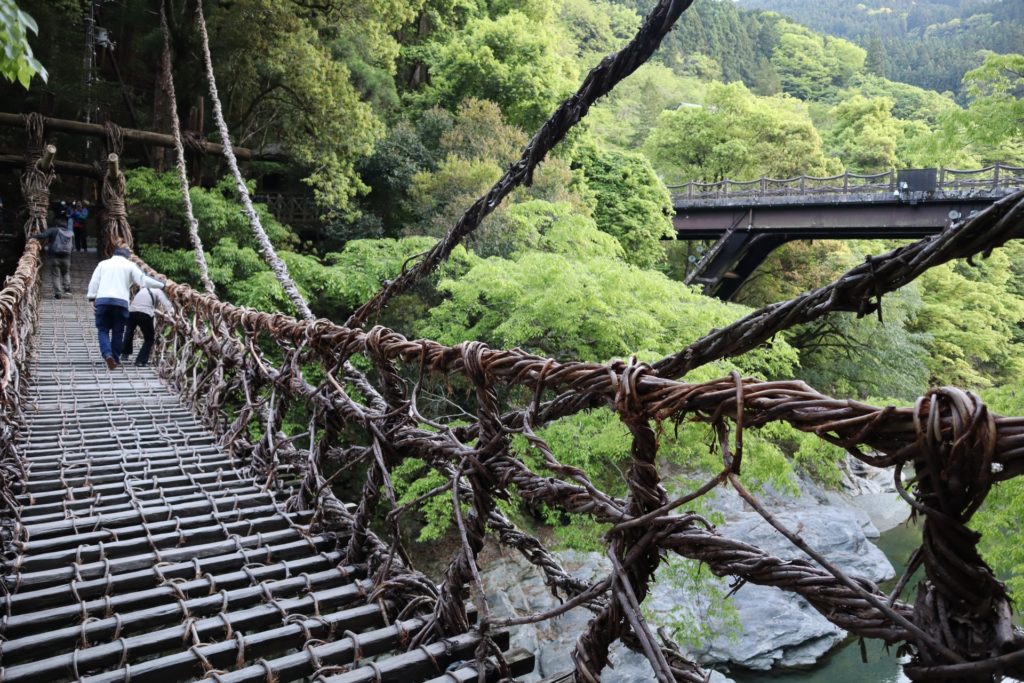 Kazurabashi is a primitive suspension bridge built using arrowroot. We carry out replacement work every three years.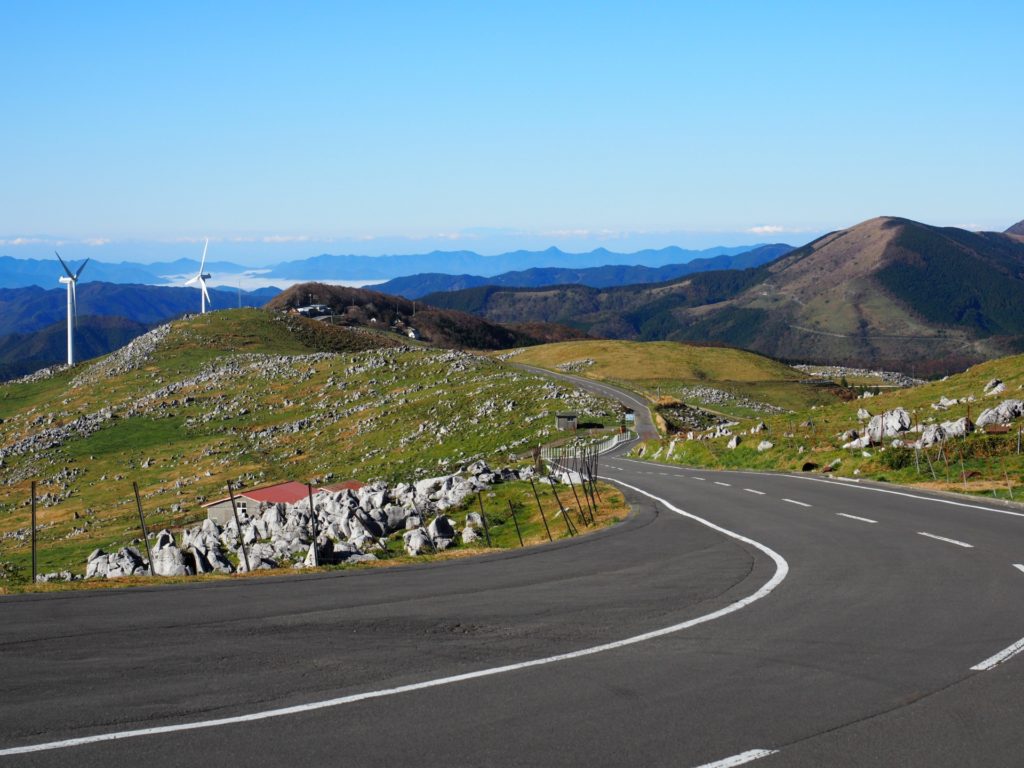 Shikoku Karst is one of the three major karsts in Japan. It has the highest elevation in Japan as a karst topography, and with the clear sky and clouds that can be seen up close, the characteristic landscape of exposed limestone in the meadow spreads out. On clear days, you can also see the surrounding Shikoku mountains.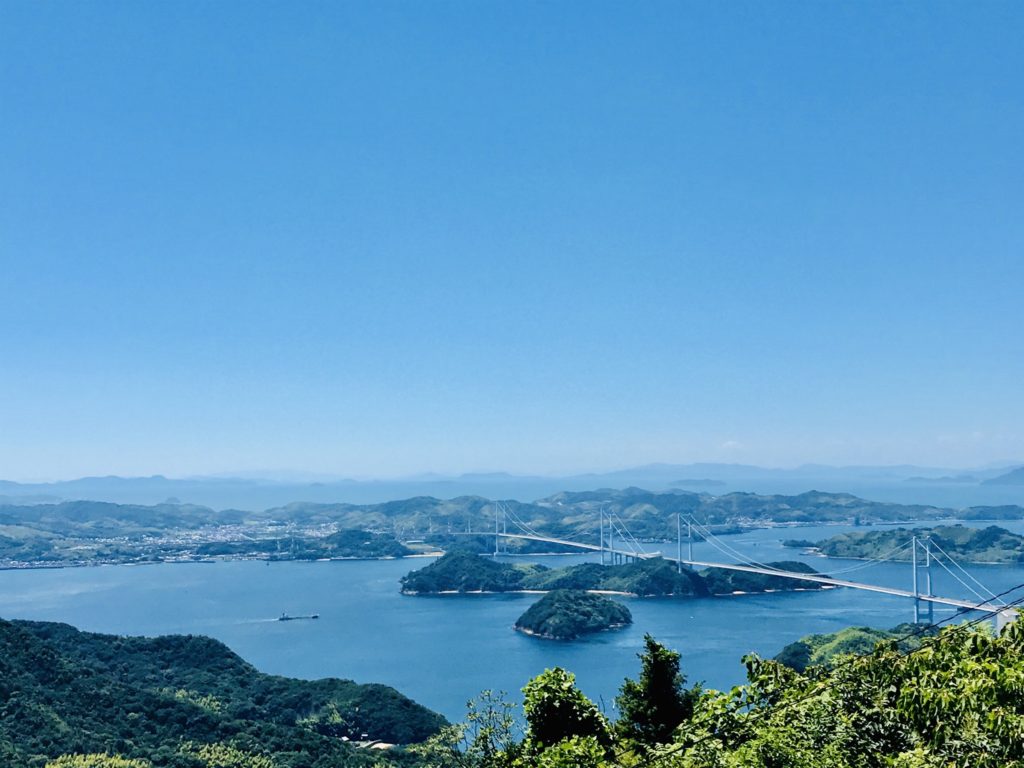 The Shimanami Kaido is a route that passes through six islands in the Seto Inland Sea. It has become a popular spot for cycling enthusiasts who enjoy the scenery of the Seto Inland Sea, and international cycling events are also held there.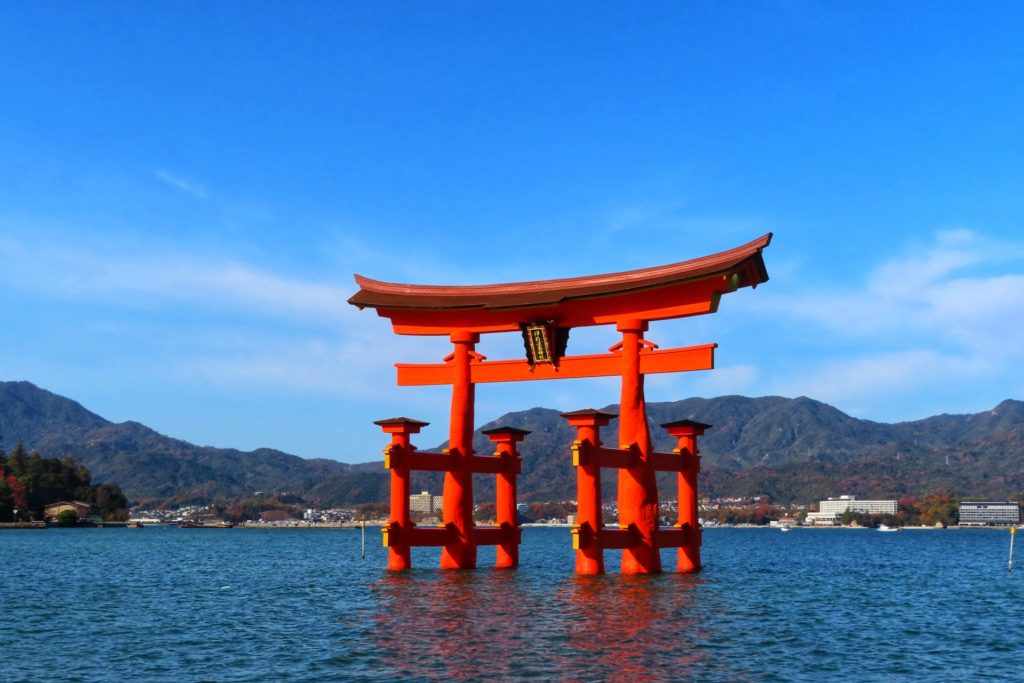 Itsukushima is commonly called 'Aki no Miyajima' and is counted as one of the three most scenic spots in Japan. It was registered as a UNESCO World Heritage Site in December 1996. The torii gate floating in Hiroshima Bay is a superb view! !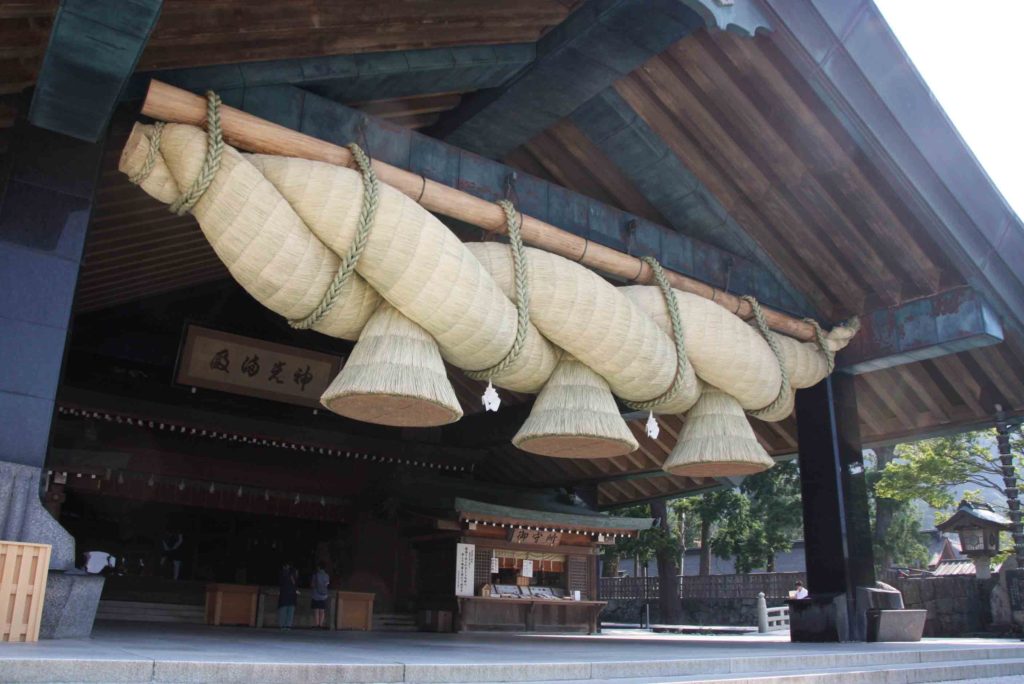 Izumo Taisha is so old that the history of its establishment is recorded in Japan's oldest history book "Kojiki", and it was called Kitsuki Taisha until the early Meiji period.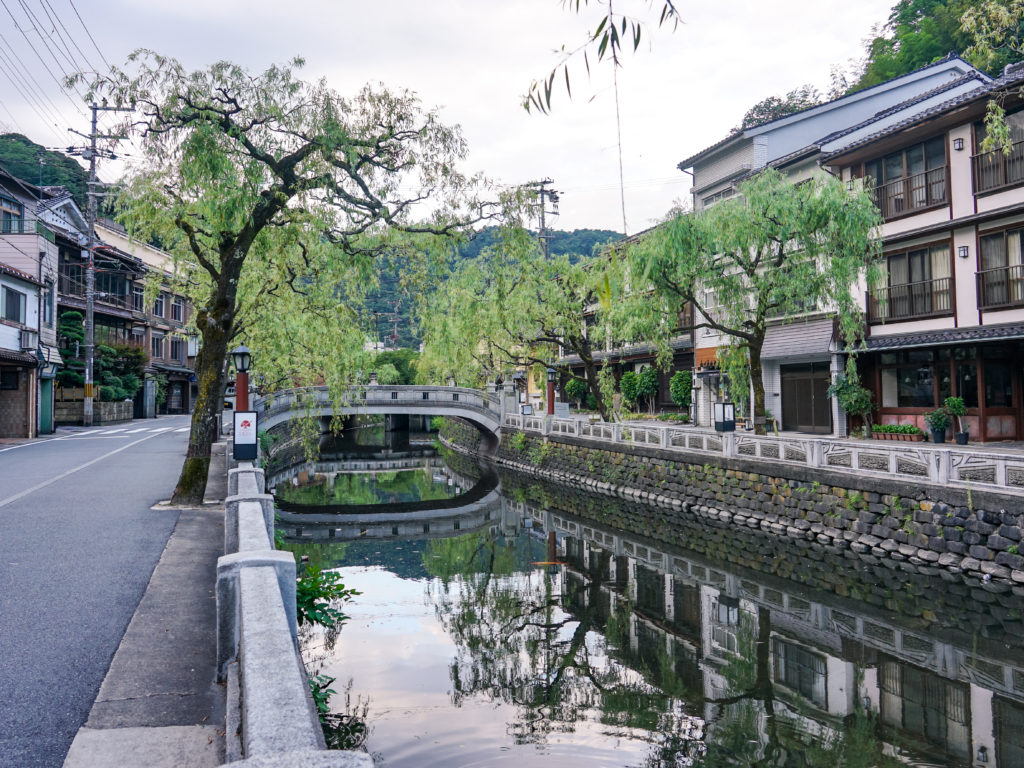 Kinosaki Onsen recommends spending time in yukata and clogs, and you will often see tourists wearing yukata in town.
Amanohashidate is said to have a miraculous view because it is a very beautiful place with 6,700 blue pine trees and white sand "Hakuseisho" that stretches for about 3.6 km.